Unraveling the Mystery – The difference between Home Health and Home Care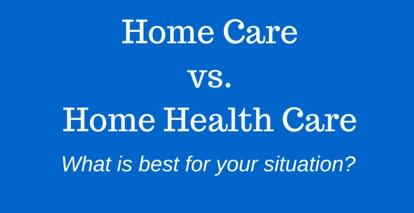 Many people ask what is the difference? Home Health is Medical assistance in your home. If you have been in the hospital, have an injury or a chronic illness and are weak and not quite recovered, Home Health can help while you are transitioning back to a healthier you. Home Health would be arranged by a Case Manager at a Hospital or Rehabilitation Center prior to a person's discharge. A Home Health Company can also be contacted by an individual. Home Health will provide an RN to check in, a Certified Nursing Assistant (CNA) to help with showering if needed, Physical and Occupational Therapy and a Social Worker. Either way, Home Health requires a Doctor's order. It is covered by Medicare or other insurances. Home Health often works side by side with In Home Care Givers as a team.
In Home Care Giving is nonmedical. A Care Giver will come and help and individual with their Activities of Daily Living or "ADLs". These are things such as bathing assistance or stand by assistance, help with dressing, toileting and medication reminders. Care Givers can also help with meal preparation, accompaniment to Doctors or errands, light housekeeping, help with exercise, and general companionship. Medicare or insurance Doesn't pay for these services. If you have Long Term Care Insurance, check your policy –it was most likely set up to pay for Care Giving when the time is needed. VA assistance can also be available for Veterans to use towards this service. Private pay of course is always an option. If a person brings in $2,000 or less and needs assistance with basic ADLs such as showering, dressing, toileting, they may qualify for government aid to pay for a Care Giver to come in.
Latest posts by superadmin
(see all)