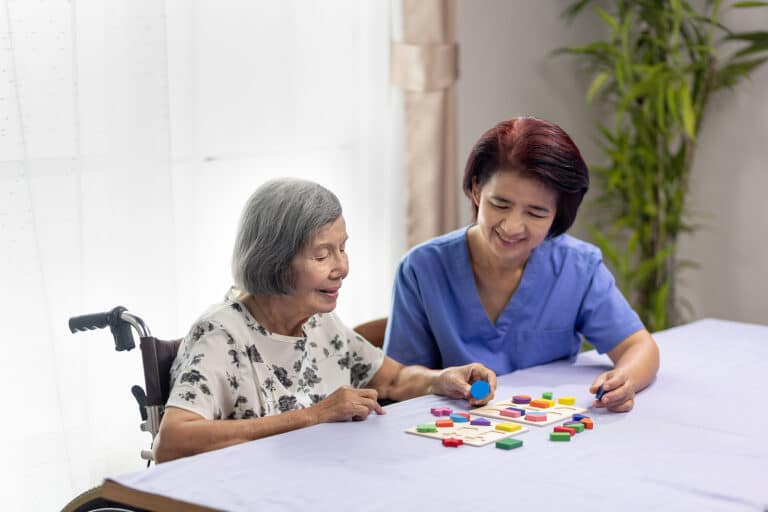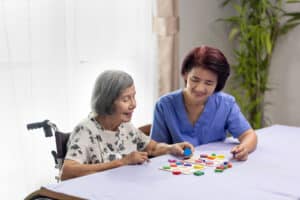 If your elderly loved one has been diagnosed with dementia, you know the disease is progressive and changes will continue to occur as she ages. The timeline isn't determined, but those with dementia usually start with memory and decision-making issues and then progress to more debilitating cognitive decline that can make caring for them a 24-hour endeavor.
In the early stages of dementia, you might have determined to have your loved one move back home with you or you might have moved into her home. You knew she needed help with daily tasks such as getting ready each, preparing meals, and managing her home safely. She probably stopped driving so transportation was a top need for any appointments she needed to attend. Plus, time is precious with a loved one who has dementia. While caring for her, you also got to spend priceless hours together.
24-Hour Home Care
As her dementia progresses, you might need to look into your situation to see if having 24-hour home care is the next step in her care. You might find that living in her home is overwhelming and that even living with her doesn't provide round-the-clock monitoring since you need to sleep and manage your household. A 24-hour home care team might be just what you need as she enters this next stage of the disease. A 24-hour home care team will alternate shifts so that there is always someone in the home with her and that someone is always awake and ready to assist as needed.
Here are five reasons you might need to move your loved one to the next level of care.
Wandering. Some dementia patients develop the habit of non-stop walking that can take place anytime during the day or night. They are more susceptible to wandering off and getting lost or finding themselves in unknown environments. If you live in an area with inclement weather (extremely cold or hot), even a short time wandering outside can be dangerous to your loved one.
Acting Aggressively
Some dementia patients because physically and verbally aggressive. It can be quite difficult to know how to manage such outbursts without having a trained professional in the home.
Insomnia and/or Daytime Sleeping
Dementia may cause your loved one to be awake while the rest of the world is asleep – including you. A 24-hour home care team can be there to ensure she doesn't hurt herself or cause any harm to her home while walking around the home at 3 a.m.
Lack of Insight
Your loved one may stop being aware that her thoughts aren't coherent or that her memory is lacking. She can no longer be reasoned with when her emotions are out of control.
Delusion
Delusions become your loved one's reality. Even if what she believes seems astronomically impossible, changing her mind about it can become difficult and may spark paranoid or aggressive behavior.
One way to love your loved one with dementia is to make sure you have a team to help her with all of her symptoms so that you can continue to love her and protect her no matter how the disease progresses.
If you or an aging loved one are considering 24-Hour Home Care in Gilbert, AZ please contact the caring staff at Legacy Home Care today. Call (480) 777-0070
Legacy Home Care is a top provider of home care services in Mesa, Tempe, Scottsdale, Sun Lakes, Chandler, Gilbert, Apache Junction, Queen Creek, Phoenix, and surrounding areas.
Latest posts by Jack Coito
(see all)