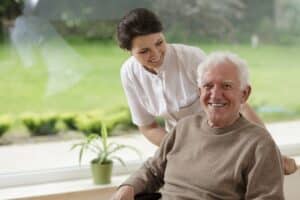 Your dad wants to stay in his home, but it's apparent that he needs some help. He needs to have help with tasks like laundry, meals, transportation, and companionship. Here are seven ways an in-home care aide can help him maintain his independence.
Housekeeping
If your dad struggles with housework, he's going to love housekeeping services. He can have a caregiver available to vacuum his carpets, sweep his hardwood and tile floors, and dust his furniture. His caregiver can wash dishes, wipe down counters and sinks, and put away items that have been left out.
His caregiver can make his bed, change the sheets and towels each week, and gather dirty clothes for the laundry. New towels are hung up in his bathroom, and sinks are sanitized.
Laundry
Once the dirty clothing, towels, and sheets are in a hamper, your dad's caregiver can bring everything to the laundry room and run things through the appropriate wash cycle. When they're washed, they'll be dried, ironed if needed, and put away.
Meal Planning and Preparation
Your dad's caregiver can talk to him about the things he'd like to eat each week. They'll build a shopping list, go shopping, and come back home. His caregiver carries everything for him and puts items where they belong.
When it's time for a meal or snack, his caregiver will make it for him. If he doesn't like eating alone, his caregiver can join him at the table and talk to him while he eats. When the meal is over, his caregiver will clear and clean the table, wash the dishes, and put leftovers away.
Companionship
Your dad has a caregiver available to keep him company on walks, outings, and within the home. He won't have to be alone when gardening or on a rainy day when he can't go outside.
Scheduling
Your dad has a hard time scheduling appointments, especially if there is an automated system or AI involved. His caregiver can schedule appointments for him.
Personal Care
Are grooming and hygiene tasks getting hard for your dad to manage on his own? Does he have a hard time holding a razor steady while he shaves or bending over to cut his nails? Caregivers can help.
Transportation
Your dad isn't supposed to drive anymore because of his worsening vision or the side effects of the medication he takes. That doesn't mean he has to be stuck at home. He can have a caregiver drive him to stores, community centers, medical offices, and other local businesses and buildings.
Arrange in-home care to ensure your dad has the help he needs to maintain his independence. He'll have help with everything from housekeeping to meal preparation. Talk to an in-home care advisor to learn more.
If you or an aging loved one are considering hiring In-Home Care in Chandler, AZ, or anywhere in the East Valley, please contact the caring staff at Legacy Home Care.
Call (480) 777-0070
Latest posts by Jack Coito
(see all)